Telling the Truth with Stuart, Jill & Pete Briscoe
Listen on WAVA 780
Monday
12:30AM - 1:00AM, 12:30PM - 1:00PM
Tuesday
12:30AM - 1:00AM, 12:30PM - 1:00PM
Wednesday
12:30AM - 1:00AM, 12:30PM - 1:00PM
Thursday
12:30AM - 1:00AM, 12:30PM - 1:00PM
Friday
12:30AM - 1:00AM, 12:30PM - 1:00PM
Latest Broadcast
Believers Who Sin, Part 2
12/12/2019
What do sinners do? They sin. Sinning comes naturally and is to be expected from people who don't know Jesus. The battle against sin truly begins after you accept Jesus into your life. It's at that point where you begin to feel the pull toward sinning – yet also feel a counter-pull that makes it difficult to sin. Why? Because you're now a saint, and sinning is no longer a natural behavior for you. Instead of being a sinner saved by grace, you're a saint who sometimes sins! How does this sin battle play out in the life of a believer? That's what Pete Briscoe teaches in this message from 1 John 3:4-10 where you'll find hope for victory in your battle against sin.
Featured Offer from Telling the Truth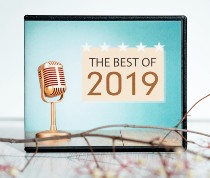 The most popular messages of the year
What if resting in God could be your default setting whenever life gets crazy? Stuart, Jill, and Pete Briscoe help you grasp God's promise of peace and strength in The Best of 2019 – featuring the six most popular messages from Telling the Truth in the past year. Get your copy when you give to help more people experience Life in Christ in the year ahead.