3 Steps to Heal Your Pandemic-Fatigue Grief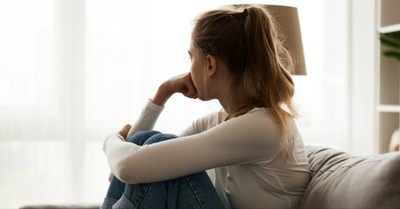 By Rachel Baker, Crosswalk.com
Recently a dear friend and I caught up with each other by phone. We found ourselves lamenting and processing throug h the ongoing pressure that we were feeling as women and moms.
We were vacillating between bravery and crippling fear, desiring to dip our toes back into the world but also wanting to protect our families from COVID-19 by all means possible. We concluded that this season of life was trying to break us.
The pendulum swing between living by bold faith but also wanting to be wise and make good decisions for homes, children and spouses was, and is, wearing on us. We felt, and feel, mentally taxed, physically exhausted, emotionally depleted and teetering towards depression.
We finally had to give a name to what we were experiencing: Grief.
Many of us are pushing through the aftermath of what might just be the initial wave of COVID-19. I have friends who have lost jobs, or have been forced to give up careers to homeschool their children.
I have girlfriends who are suffering under the weight of long-term uncertainty, confusion and chaos. I have had conversation after conversation with women who are battling depression.
I know of others who have lost loved-ones this year but were unable to properly say good-bye. I know brides-to-be who are grieving the loss of a dream wedding and young married couples who are desperately struggling in their marriages due to the pressures of life in pandemic.
And to be frank, COVID isn't going anyway any time soon. And it's weighing heavily on all of us.
Naming what so many women have been experiencing, this year, can create an opportunity to process the full range of emotions associated with grief.
If you are currently finding yourself in any one of the groups listed above, you too may need to process the grief that COVID-19 has created.
Here are a few suggestions on how to start the process of healing:
1. Acknowledge Your Own Grief
Have you ever diminished your own suffering because humanity's suffering or the suffering of someone else seems greater? I've done this so many times over the past year. "Oh woe is me and my first world problems."
This is a problem. For months as COVID-19 rocked the world, I tried as hard as I could to count my blessing and keep a positive outlook. I was crying myself to sleep on a nightly basis but still I was "too blessed to be stressed."
That was rubbish! Yes, I consider myself very blessed, however my heart was wrecked as I watched the world suffer.
As our local schools and churches shut down, I attempted to keep a brave face. When travel restrictions were enforced and grocery stores ran out of essentials I tried to mask my terror. As the death count rose and the news became evermore confusing the mask and brave facade began deteriorating.
I, just like so many of my friends, couldn't hold it all together.
I couldn't be brave enough for my children or fearless enough for my family. I had to acknowledge that I was scared. I had to acknowledge that I was grieving for my children as their schools closed and we hunkered down. I had to acknowledge that I was grieving for the suffering of others.
I had to give name to what I was processing emotionally and mentally. Giving it a name helped me begin to use my emotions in a constructive way, rather than continue in a cycle of melt-down after melt-down.
In the wake of COVID, or any trauma for that matter, acknowledging grief can bring us a step closer to peace.
2. Categorize Rather Than Compartmentalize
Every Mom I know juggles massive amounts of responsibility. Before COVID was ever a word on our lips, most mothers were already considered the proverbial "glue" that holds it all together.
Then the grief and stress of COVID added a near invisible layer of mental anguish to our parenting. We lay awake at night praying for the protection of our families, our friends, our communities and the world.
We processed and juggled bringing our children—sometimes even adult children—back into the safety of our homes. We have adjusted our schedules, given up careers and put dreams on hold to keep it all together.
This has left many of us exhausted, fatigued, and perhaps even depressed. We've tried to compartmentalize those feelings; hide them away for a day when we can actually deal with them.
It's like holding our breath for an indefinite amount of time and expecting not to pass out. Compartmentalization isn't, and truly wasn't ever, working.
Perhaps we need to take a different approach. Rather than trying to stuff those feelings down we need to categorize them. When we feel tension rising up between our shoulders maybe we need to press pause, pray, and evaluate the root of our stress.
We can ask: "Is this a normal life stress, or is this a COVID induced stress?"
While the stress and grief is very real, actually categorizing it as "COVID grief" can help us focus on what is good in life.
We can categorize a tension we are feeling as a "COVID feeling" and weigh that feeling against the truth. We can hit pause on our rising emotions and ask ourselves, "do I really feel this way or am I feeling this way because COVID is wearing me out?"
3. Talk About It
I have a friend who is a safe place. Over the last 10 months I have called her and unloaded my fears and frustrations.
She has helped me acknowledge and categorize my emotions. I have sat on the phone and wept while she's talked me off the ledge, and likewise I've done the same for her.
My friend sharpens my perspective on life. She reminds me of the verse in Proverbs 27:17, "As iron sharpens iron, so one person sharpens another."
She reminds me to evaluate my feelings and to determine whether they are: real, COVID, or completely false.
When we are grappling with feelings of hopelessness and grief, having a friend, confidant, mentor or therapist to speak truth into our situation can allow us to process our emotions in a healthy and hope-filled manner.
If you're finding yourself processing through the grief this year has created, ask a friend or someone you trust to journey alongside you. Talk through your emotions, as you do you might just find yourself healing.
There was a season in my life where I realized that what I was going through required more than just the kindness of a friend. During that time I realized that I was in need of professional help.
Perhaps you're in a place currently where you are realizing that you need assistance as well. I encourage you to fearlessly take a step forward and get the help you need.
If you're not sure where to start reach out to your local church. Often they have a list of resources available to their community. Do not wait until the pressure or burden of grief becomes so heavy that you cannot carry it.
Take care of yourself today.
Acknowledging, categorizing and talking about our grief can transform the way we carry what we're walking through.
In those first few weeks of COVID I was prone to laying on my floor and weeping.
There was a lot of that happening in my house. I felt almost silly for having such big emotions, but then I remember a powerful truth: God gave us emotions to experience truth in a meaningful way.
The truth was that I was grieving, I was fearful, and strangely enough I felt completely alone.
When I finally opened up and talked to girlfriends I discovered that they were experiencing almost the exact same emotions I was. I wasn't silly or dramatic for feeling what I was feeling.
I was human! Just as you are. Today, I hope that you are encouraged to begin the healing process.
You are not alone, your emotions are not silly, and God wants you to be whole and healed. Today is a good day to start acknowledging where you're at.
Photo Credit: ©iStock/Getty Images Plus/fizkes
Rachel Baker is the author of Deconstructed, a Bible study guide for anyone who feels overwhelmed or ill-equipped to study the word of God. She is a pastor's wife and director of women's ministries, who believes in leading through vulnerability and authenticity. She is a cheerleader, encourager, and sometimes drill-sergeant. She serves the local church alongside her husband, Kile, in Northern Nevada. They have two amazing kiddos and three dogs. Rachel is fueled by coffee, tacos, and copious amounts of cheese. For more on her and her resources to build your marriage, see her website: www.rachelcheriebaker.com or connect with her on Instagram at @hellorachelbaker.